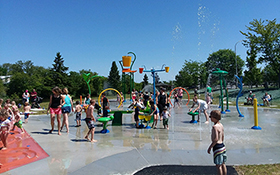 Riverside Bicentennial Park is located at 36 Riverside Drive along the banks of the Presque Isle Stream. Approximately 4 acres in size, the park is within easy walking distance to the downtown area.
Through cooperative efforts of numerous local, state and federal agencies the park began initial construction in 1976. However, regulatory delays, heavy rains and the reconstruction of State Street Bridge forced a stay in completion of the project until the spring of 1980.
The original park consisted of a lighted multi-use area and a 30' by 90' support building. The building held restrooms, a meeting room, as well as a maintenance shop area. Also contained in the park was a play area with playground equipment, benches, picnic tables, shuffle board courts and a covered gazeebo. A boat ramp providing access to the Presque Isle Stream and two fishing piers were constructed as well. As part of an educational project undertaken jointly by the City, the Star City Arbor Council, and the Maine Forest Service, an arboretum of more than twenty different species of trees was created. For many years the park held scheduled activities such as youth soccer, girls' softball and a variety of special events and rentals. The highly utilized park changed little in features and/or use for nearly 40 years.
By 2017 however, Riverside was in need of some updates. First, a 5,000 ft2 Splash Pad was constructed at the park, replacing the original playground equipment. Sustained by a chlorinated recirculation system, the pad features 24 water spray elements, able to support as many as 150 kids at one time. This project also included the renovation of the support building to better serve the park overall with changing rooms, program storage, snack shack, benches, eating area and a mechanical room. That same year, a new 40 vehicle parking lot was created and the large, grass play area was renovated.

Then, in 2018 the Presque Isle Rotary and Kiwanis Clubs joined efforts to raise funds for a beautiful new playground at the Park. This 8,500 ft2 playground with state of the art protective surfacing was an instant success. Combined, these recent changes have contributed to a substantial rise in use of the park, resulting in a pedestrian crosswalk signal also being installed.
The park is the start of the community's 4 mile-long Bike Path.